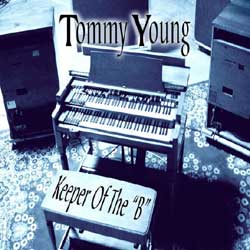 Keeper of the "B"
New CD Release by Tommy Young

No one knows where it comes from . No one knows where it goes. It's that etherical music that comes out of an old wooden wonder box with rotors and spinning horns. Organists everywhere never realized that thcy would have to drag along a girl named "Leslie" wherever they went.

Check her belts and give her new tubes every now and then. Don't beat her up. Take care of her and just cover the old girl in Minwax to hide the scratches. She looks and sounds gorgeous to me. And oh yeah, you have to take her girlfriend "B" with you too! She's a little bit bigger on top but she has nice legs. Usually you have to put her up on dollies to move her around. She's been to Mardi Gras just once too often. These two always have a good time wherever they go. They're Worth The Tote!
CD Design by EARLYWORKS - www.audiodallas.com/earlyworks

"Melancholy Serenade" "Tribute To The Great One" Jackie Gleason's Theme Song


THIS CD IS DEDICATED TO "C.Y."